Home Page >>
Car and Vehicle Cleaning
>>
Exterior Vehicle
>> AutoGlym Bodywork Shampoo Conditioner (500ml)
AutoGlym Bodywork Shampoo Conditioner (500ml)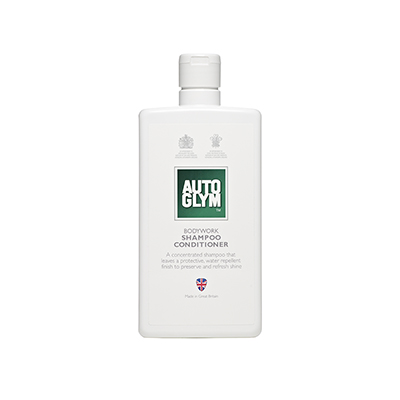 Hard working yet gentle, pH neutral shampoo
Low foaming solution containing a water repellent film
Helps rinse & dry your car faster
Clean your vehicle without stripping away any polish or wax
| | | | |
| --- | --- | --- | --- |
| JMS ID: | CS14708 | Web ID: | 16834 |
| Pack Size: | 500ml | Weight (kg): | 0.5 |
| Model Number: | BSC500 | EAN: | 5016366025002 |
Low foam & deep cleaning shampoo with a water repellent finish for easy rinsing & ongoing protection

A clean car is a thing of beauty and it's easy to achieve with AutoGlym Bodywork Shampoo Conditioner, a hard working yet gentle, pH neutral shampoo.

This low foaming solution contains a water repellent film that causes rinse water to sheet off the surface, helping you to rinse and dry your car faster.

Its active ingredients clean your vehicle without stripping away any polish or wax you have previously applied.

How to use this product:

1. Shake well before pouring 2 capfuls into a bucket & add 10 litres of warm or cold water.

2. Hose bodywork to rinse away excess dirt. Always work on a cool surface, shampooing the car from the roof down.

3. Do not allow the shampoo to dry on the car.

4. Rinse well with clean water & dry with a microfibre towel to prevent water spots.
Best Sellers